4 of the Best Moments of Marco van Basten's Career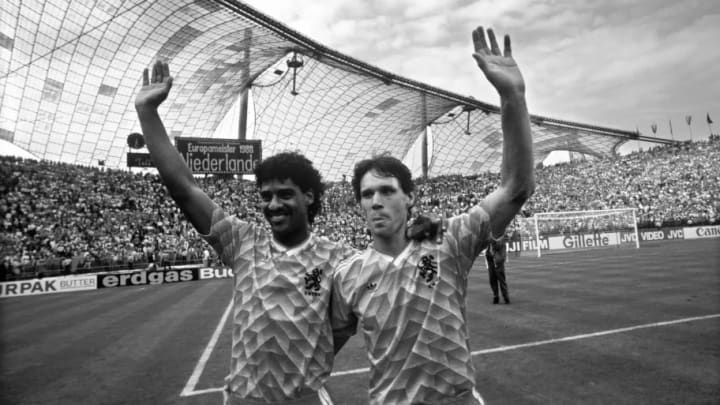 Marco van Basten is number 19 in 90min's Top 50 Greatest Footballers of All Time series
If you want to learn how to score goal after goal, just go watch footage of Marco van Basten's illustrious career.
The Swan of Utrecht was a dominant force with Ajax, AC Milan and the Netherlands, winning countless trophies on both a personal and a team level. Did someone say three Ballons d'Or?​
With a career like that, there are plenty of outstanding moments which are worth remembering, and here are four of the best.
---
His Perfect Overhead Kick Against Den Bosch
​Just look at this goal. Look at it. Have you ever seen anything more beautiful in your entire life?
Van Basten was a master of the overhead kick, and undoubtedly his finest effort came in November 1986 against FC Den Bosch.
The way the ball pings in off the post is heavenly. Seriously, there is nothing about this goal that isn't utter perfection.
---
The Iconic Euro 1988 Volley
​As we've seen from that first overhead kick, Van Basten had some pretty decent technique when it came to volleys. This one against the Soviet Union in the final of Euro 1988 wasn't half bad either. You might have seen it.
After assisting Ruud Gullit for the Netherlands' opening goal, Van Basten stole the headlines with an outrageous volley from an impossibly tight angle which somehow managed to loop in over the goalkeeper.
It's up there with the greatest goals of all time, and deservedly so.
---
Shining in the 1989 European Cup Final
By the time 1989 arrived, Van Basten was already an established star, but he took his career to new heights that year in the European Cup final.
With 30 goals already under his belt for ​AC Milan that season, Van Basten took his tally to 32 with another two strikes in the final against Steaua București to prove that he was just levels ahead of everyone.
Alongside lifting the European Cup, that performance helped earn Van Basten his first of three Ballon d'Or trophies. Not bad.​
---
Scoring 4 Against Göteborg
What's that? You want another bicycle kick? Go on then.​
Van Basten became the first player to score four goals in a ​Champions League match when he brutally dismantled IFK Göteborg in November 1992, the third of which was another outstanding acrobatic effort.
12 players have since managed the feat, but Van Basten will always be the first.
---
For more from Tom Gott, follow him on Twitter!
90min's 'Top 50 Greatest Footballers of All Time' can be found here.
Number 50: Luka Modric
Number 49: John Charles
Number 48: Hugo Sanchez
Number 47: Jairzinho
Number 46: Omar Sivori
Number 45: Paolo Rossi
Number 44: Paul Breitner
Number 43: George Weah
Number 42: Kaka
Number 41: Lev Yashin
Number 40: Gunnar Nordahl
Number 39: Kevin Keegan
Number 38: Hristo Stoichkov
Number 37: Gianluigi Buffon
Number 36: Johan Neeskens
Number 35: Xavi Hernandez
Number 34: Luis Suarez
Number 33: Karl-Heinz Rummenigge
Number 32: Andres Iniesta
Number 31: Rivelino
Number 30: Bobby Moore
Number 29: Socrates
Number 28: Sandor Kocsis
Number 27: Lothar Matthaus
Number 26: Ronaldinho
Number 25: Ruud Gullit
Number 24: Bobby Charlton
Number 23: Giuseppe Meazza
Number 22: Raymond Kopa
Number 21: Romario
Number 20: ​Eusebio
---