Kurt Zouma Is Becoming Increasingly Important to Chelsea & France Should Take Notice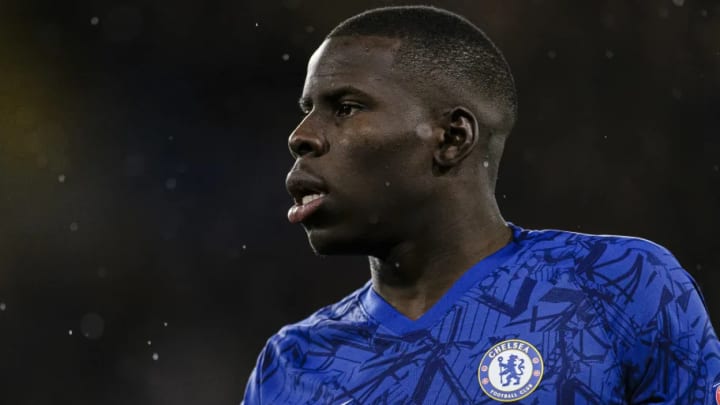 It may seem odd to start praising Chelsea's defence above all other parts of their side, but Kurt Zouma's performances in recent weeks cannot have done anything but left Frank Lampard feeling happy - which is the Frenchman's middle name coincidentally.
Kurt Happy Zouma.
Anyway.
The defender has taken a roundabout route in becoming a regular at Stamford Bridge, with decent loan spells at Stoke and Everton hinting there was more to come from the former Saint-Étienne starlet.
Now Zouma is back in the mix at ​Chelsea, the team he has won two ​Premier League titles with, and is starting to show he has what it takes to be a regular for the Fulham-based side.
Lampard doesn't have a world class centre back at his disposal, but he does have a collection of very solid players willing to take risks to improve. Andreas Christensen, ​Antonio Rüdiger and Fikayo Tomori are all available to the former England international, and Zouma's season thus far shows his quality is more than comparable.
He may already be a goalscorer for France at senior level but Zouma has only amassed five international caps having made his debut in 2015. On one hand, 2020 could be the year Zouma puts himself directly in Didier Deschamps' eyeline ahead of Euro 2020.
On the other, Presnel Kimpembe, ​Raphaël Varane, Clément Lenglet, Samuel Umtiti, Aymeric Laporte and Lucas Hernandez all remain viable options to Deschamps and are players who could stop the Chelsea star featuring at the Euros.
However, that doesn't change the fact that this is the best version of Zouma we have seen so far in his career. Mistakes have been limited and the power with which he drives the ball into the final third once or twice a match hasn't gone unnoticed. 
This is a man playing to his strengths. And on the topic of strength, he's got that in abundance, too.
Chelsea's centre backs have been continuously swapped in and out this season as Lampard jumps between three and four at the back, but Zouma - when playing in a three - has been one of the club's standout performers.
He was a major part of Chelsea's qualification from the Champions League group stage, missing just 17 minutes of the team's opening six fixtures. Possibly his most impressive attribute this season has been the ability to impose himself on opponents when they approach Chelsea's goal.
Reckless challenges that cut right through the opponent and the ball are practically dead in the modern game. Fans up and down the country, remembering a bygone era, cry 'the slide tackle is dead', but Zouma shows that isn't true. 
He has perfected the risk-free sliding challenge this season, often darting in precisely to jab the ball away, often towards a teammate. It's not perilous to lunge at your opponent if you know you'll win the ball, and the Frenchman invariably comes out on top.
Impressive too is his superb technique when spraying long balls through the air to switch play. It's stuff comparable to Trent Alexander-Arnold's delicious crosses.
Zouma is pushing to start every game for Chelsea. If he manages to cement his place at the Bridge, France may come calling more often - even with the riches they boast at centre back.
There was a moment in that barmy 4-4 draw with Ajax in November when Zouma danced forward past so many players and at such a ferocious pace that, when his rampage finally subsided, Lampard could do nothing but laugh.
When you surprise your manager so much that he chuckles in real time, you've done well. If Zouma can force some more 'joke into serious point' remarks out of Lampard, he'll know he's getting the recognition he deserves.